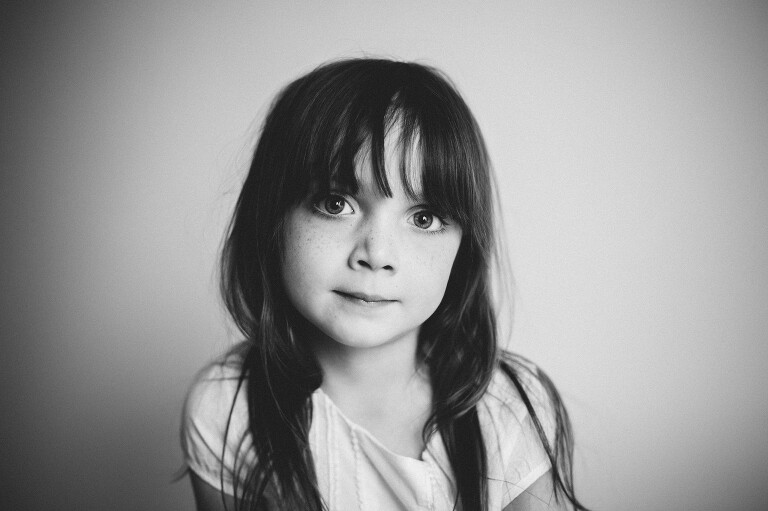 In January I got together with my good friend Keziah over at Baby Rose Photography to get our creative brains going and we put together this gorgeous shoot with two beautiful girls, a pink backdrop, and some flowers. I have been bringing a fine art element into my Denver portrait work recently and this was a great way to incorporate that side of things to create beautiful and emotive images of these girls. I am excited to start offering sessions like this, with more of a studio (but not stuffy!) feel that incorporate an old soul vibe to children portraits through subtle vintage touches and creative but simple props.
Little miss Avery had these gorgeous big eyes and wild beautiful hair. We put her in beautiful vintage dresses that I've found at local antique stores around Denver. And then she just rocked our world with her sweet lil face and curled up toes and adorable little freckles. If I could photograph freckles all day… I would.
Miss Victoria had beautiful curls and we piled her high with big flowers and of course I threw a Wintercroft mask (painted by Shannon Faber) on her at the end. Victoria has and old soul in her and the simple portraits of her were by far my favorites. She was full of sweet smiles but I love the heck out of serious kid portraits that still feel whimsical and fun and she knocked that out of the park!
I loved getting to photograph these adorable littles and can't wait to explore this area of my work even more. If you're interested in booking one of these sessions, please contact me! I would love to chat about putting together a customized fine art portrait session for you!